Click for Larger Image

VisTablet Graphics Tablet (12x10) (White)

(Mac / Win)

Product ID: 868685 / Mfg Part #: 98-903w10211-000
VisTablet - VisTablet

$

109.95

$

129.99
Save

$

20.04 (15%)


Ships in 3-5 days
| | | |
| --- | --- | --- |
| | | |
| | Everyone is eligible for this great price! | |
| | | |
VisTablet Original 12" Graphics Tablet (12x10) (White)
The New Standard in Graphics Tablets
Features
Large surface area: 12.1-inch widescreen tracing surface
Extremely thin design for portability
29 customizable macro fields
Works on a PC or Mac
Fully compatible with Adobe Photoshop, Corel Painter as well as all major digital imagery software and writing applications
Pen tablets have been around for some time. Not until recently have they become affordable to the general public. They were primarily used by professionals in the Graphic art and Photo industries.
VisTablet allows you to explore the internet, draw, paint, write, highlight and do professional or home photo editing. VisTablet also opens up advanced pen features available in all the new Microsoft Office applications.
Through electro- magnetic induction, information is exchanged between the pen and the tablet while your movements are translated to your computer screen. With no stand-alone power supply required, the VisTablet is a great choice for portable computers as well as desktop PCís.
VisTablet will open up the world of design to you in ways that were previously either to expensive or to limiting. VisTablet is the new standard in graphics tablets.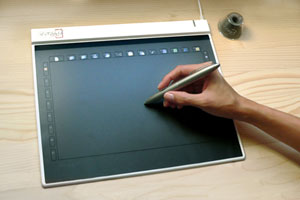 Where is the tablet used?
Tablets are not only used for drawing or tracing. They also function like a mouse to interface with your computer's operating system. Use the pen on the tablet to control your on-screen cursor, move it to a desired location and click! Vista's new ink input functions in Microsoft Office greatly extend the features of your software and the VisTablet can make those features accessible.
The VisTabletís surface area is proportional to your monitor's screen. Whether youíre using a full-size Original VisTablet or the miniVisTablet, you will always have full access to the monitor. A smaller tablet would require a bit more fine detail in your penmanship but itís features are in no way restricted by the tabletís size.
Pressure sensitivity
Pen sensitivity is a very important for professional artists. The more you press the pen down the wider the brush stroke will get. VisTablet currently has 1024 pen sensitivity levels. That matches tablets at twice the price.
Thin is in!
The VisTablet is a solid piece of hardware. While we do not recommend you attempt to flex your tablet, you can confidently stow it behind your laptop in most large slip-cases without even knowing itís there.
More convenient than a mouse
Tablets are not only used for drawing or tracing, they also function like a mouse to interface with your computer's operating system. Use the pen on the tablet to control your on-screen cursor, move it to a desired location and click. The comfort, precision, and ergonomics of the pen tablet simply cannot be matched.
Finally, affordable tablets
The VisTablet belongs in the professional class of graphics tablets but its price makes it accessible to everyone. VisTablet is the new standard. With high surface-area-to-cost ratios you can finally add a tablet peripheral to your computer system.
VisTablet 12-inch Features
Large surface area: 12.1-inch widescreen tracing surface
Extremely thin design for portability
29 customizable macro fields
Fully compatible with Adobe Photoshop, Corel Painter as well as 100s of other major software applications.
Works on a PC or Mac.
Special features in Windows Vista: pen flick navigation, handwriting recognition, email signing, etc.
2 Year Warranty and U.S. backed technical support
Note
This Academic edition has the same features and capabilities of the retail version, and is shipped to you in a factory sealed retail box. However, this version is able to be sold below the retail price because of an educational discount.
VisTablet is compatible with the following operating systems:
Microsoft Windows 7
Microsoft Windows Vista
Microsoft Windows XP (SP 2)
Apple OSX (10.3 and later)
Please note that the VisTablet graphics tablets are designed to take advantage of built-in features in Windows Vista & Windows 7. Some capabilities will not be available to all users. Mouse capabilities are universal with all compatible operating systems.
Always be sure to download the latest drivers available for your operating system.
Reviews
Anonymous

February 5, 2008 - Impressive
This is a great product. Its a nice large surface and coordinates perfectly with my wide screen display. It recognized my handwriting and converted it to type straight out of the box. BEST OF ALL - perfectly accurate when making selections in PhotoShop - no more time consuming mouse work with imperfect edges! Comparable to much higher priced competitors products. The pen is light and comfortable. High quality product and great touch screen macros.
Anonymous

February 29, 2008 - Finally!!
I switched to this after using Wacom intuos for years, I was scared that the cheaper price point of vistablet would not give me the same quality as as Wacom. Well, verdict is out that it not only worked as good but gave more features for macros. Finally a tablet that is affordable!!
Anonymous

April 22, 2008 - Good Bang For Your Buck!
Excellent tool works equally well with USB 1 or 2, and with Windows 2000 Professional, XP and Vista. Sensitivity is *very* good, range of motion works well.

WARNING: TREAT THAT PEN LIKE GLASS! Plastic casing is very weak doesnt react favorably to falling off the desk have found myself getting creative with rubber bands waiting for the VisTablet folks to get back to me.
Anonymous

April 25, 2008 - YouTube Video
http://www.youtube.com/user/VisTabletUSA
Anonymous

June 16, 2008 - You get what you pay for
This thing might be an ok navigational alternative to your mouse but DONT get it as a drawing tablet. Too much latency to be a responsive drawing tool.
Anonymous

August 25, 2008 - DONT BELIEVE THE HYPE
I bought this tablet simply because of the price... i figured how different can it be from a wacom... i didnt do my research and in turn will have to buy a wacom... its plain and simple dont buy this tablet if you want it to do what a wacom can do... i am running 64bit vista.. the driver for this tablet is horrible... this tablet is not PRESSURE SENSITIVE... so drawing in photoshop is horrible.. I GIVE THE VISTABLET 0 STARS..
NOT IMPRESSED
-JONO
STUDENT @ AI LAS VEGAS CAMPUS
Anonymous

September 24, 2008 - Wonderful product.
I have had my tablet for about a week now and I absolutely love it. This is the first tablet I have used so I cant compare it to the others on the market but it does have a much larger surface area than other tablets in the same price range.

The programmable macro keys can be very useful but if you are like me and want to be able to use the full surface area for drawing then you can easily disable them. It worked wonderful in photoshop CS and CS3 Art rage and in Microsoft OneNote.

I was a little disappointed that my cursor jumps around when Im on my Ubuntu system. Considering that Ubuntu or any other linux flavor isnt mentioned in the requirements I am
thankful that it even works at all.

I would recommend this tablet to anyone looking for an affordable alternative to a wacom or just looking for a tablet in general.
Anonymous

September 26, 2008 - Mostly Great
I never used a tablet before this one. I love how you can customize the MacroKeys for multiple applications! I write in more than one language and it is capable of recognizing several. Its easy to switch back and forth between them. Its so thin and lightweight it feels just like writing on a paper notepad. You can adjust the sensitivity of the pen stylus and there is a tutorial that teaches you the basics of writing on a tablet. Both first time users and old hands will enjoy the versatility of this tablet.

But there is a place on the surface that has a glitch. It makes your lines go crazy when you draw over it and you cant select anything on the screen where it is. There doesnt appear to be anything wrong with the surface of the tablet itself and the stylus pen functions perfectly elsewhere. I tried contacting customer service to figure out what might be wrong and was brushed off without any kind of resolution.

Other than that small glitch though its great. The amount of precision with which you can draw is amazing and saves so much time and effort vs. drawing with a mouse. The base that holds the stylus pen is great too it helps me keep track of it when I set it down!

Anonymous

August 26, 2011 - Looking for something else
This was my first tablet so at first I was impressed. It looks nice and the multiple function buttons come in handy but...

It's really big and I would get a small lag when I would try to draw

A smaller board is more efficient

It has developed a dead spot that goes through the middle of the board, so drawing and coloring has become terribly inconvenient.

Gonna go by a Wacom board
Shaday Viruet

November 5, 2011 - It's a good start
This was my first tablet in high school, had it until my freshmen year in college.

Pros- Light weight, easy to use, a nice active drawing space, the mulitple funtion buttons, less costing than other tablets.

Cons- Lagged, sometimes the muliple funtion buttons would get in the way of drawing

great tablet for starts, but I if you looking for something more professional or high tech I wouldn't recommend this tablet then.
Log In
to write a review.